Dual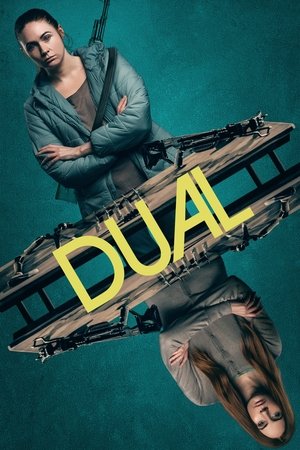 Dual
Overview
A terminally ill woman opts for a cloning procedure to ease her loss on her friends and family. When she makes a miraculous recovery, her attempts to have her clone decommissioned fail and lead to a court-mandated duel to the death.
Cast
Karen Gillan
Aaron Paul
Beulah Koale

Theo James

Elina Jackson

Maija Paunio
Rea Lest-Liik
Sanna-June Hyde
Kris Gummerus

Elsa Saisio

Amira Khalifa
Andrei Alén
Aram Tertzakian
Darren McStay
Rasmus Blomqvist

Katariina Havukainen

Riley Stearns
Marketta Tikkanen
Robert Enckell

Sophia Heikkilä
Elias Salonen
Crew

Kimmo Rajala
Aram Tertzakian

Riley Stearns

Riley Stearns

Riley Stearns
Matthew Helderman

Luke Taylor
Increasingly, clones began to come into fashion. People, under any pretext, try to create their own kind in order to prolong their existence on the sinful earth. Unlike many, a girl named Sarah was forced to take such a step. She was given a fatal diagnosis. She clearly realized that no one would take care of her family better than her. That's why it was decided to create your own clone, which was supposed to replace it. That way no one would feel the loss. She decided to do this secretly so that everyone would live as if nothing had happened. The clone was created in her image and likeness.
After a short period of time, her exact copy learned the manner of speaking, the habits and habits of her creator. Sarah believed she was doing the right thing. At some point, it suddenly became clear that the clone perfectly got used to the image and no one in the family noticed anything. It would seem that one can die with a pure heart, but suddenly something went wrong. Unexpectedly for herself, the girl learns that her diagnosis was erroneous. She is not sick at all and she is not in danger of death, only the clone does not intend to give up her place in the family. To get her out of there, you need to win. Everything is according to the rules and Sarah is preparing for the first duel in her life.
Genre: Sci-Fi, Thriller.
Released: 2022.
Director: Riley Stearns.
Starring: Karen Gillan, Aaron Paul, Beulah Koale.
Watch Dual Movie