I'm Thinking of Ending Things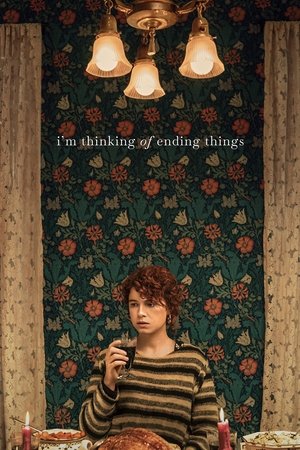 I'm Thinking of Ending Things
Overview
Nothing is as it seems when a woman experiencing misgivings about her new boyfriend joins him on a road trip to meet his parents at their remote farm.
Cast
Jessie Buckley

Jesse Plemons
Toni Collette

David Thewlis

Guy Boyd
Colby Minifie

Hadley Robinson
Gus Birney
Abby Quinn

Teddy Coluca
Jason Ralph
Oliver Platt
Ryan Steele
Unity Phelan

Dj Nino Carta
Crew
Charlie Kaufman
Charlie Kaufman
Charlie Kaufman

Melissa Toth

Ryan Collison

Leslie Bloome

Łukasz Żal

Heidi K. Eklund

Joanna Fang

Nicholas Seaman
Lucy and Jake meet for a very short time, but an amazing understanding reigns between the young people. However, when a man takes her to meet her family, the girl is already thinking about parting, but does not tell Jake about her intention, fearing to upset him. Upon arrival at the family farm, Lucy begins to notice incomprehensible and frightening things, sometimes baffling her and making her doubt her own sanity. Then the parents of a man suddenly change, becoming younger, and after a moment they again look at their age.
Strange pictures on the shelves, in which little Jake is very much like herself as a child, familiar sounds and smells that awaken the feeling of déjà vu. But when the excruciating dinner and meeting with relatives finally comes to an end and the couple head back to town, truly frightening events begin to happen. They drive into Jake's old school, where the girl meets an elderly security guard who tries to tell her something, but Jake's sudden disappearance changes plans. The dark building keeps a dark secret, the realization of which will turn the heroine's world upside down.
Full of misgivings, a young woman travels with her new boyfriend to his parents' secluded farm. Upon arriving, she comes to question everything she thought she knew about him, and herself.
Despite second thoughts about their relationship, a young woman (Jessie Buckley) takes a road trip with her new boyfriend (Jesse Plemons) to his family farm. Trapped at the farm during a snowstorm with Jake's mother (Toni Collette) and father (David Thewlis), the young woman begins to question the nature of everything she knew or understood about her boyfriend, herself, and the world. An exploration of regret, longing and the fragility of the human spirit, I'M THINKING OF ENDING THINGS is directed and written by Academy Award® winner Charlie Kaufman (Eternal Sunshine of the Spotless Mind). Inspired by Iain Reid's bestselling namesake novel.
Based on I'm Thinking of Ending Things by Iain Reid
Creators: Charlie Kaufman
Director: Charlie Kaufman
Star Cast: Jesse Plemons, Jessie Buckley, Toni Collette, David Thewlis
Producer (s): Anthony Bregman, Charlie Kaufman, Robert Salerno, Stephanie Azpiazu
Cinematographer: Łukasz Żal
Production House: Likely Story, Projective Testing Service
Music: Jay Wadley
Original network / Official Sites: Netflix
Release Year: 4 September 2020 (USA)
Runtime: 134 min
Genres: Drama, Thriller
Country: USA, India
Language: English, Spanish
Subtitles: English, Bengali
A young woman, referred to by a changing series of names, contemplates ending her six-week relationship with her boyfriend, Jake. She does so while taking a day trip to meet Jake's parents on their farm. During the drive, Jake attempts to recite a poem he read when he was younger, Ode: Intimations of Immortality, but the woman claims she doesn't like poetry much. He mentions that the poem was about a woman named Lucy, also referring to the young woman as Lucy, only for her to interrupt him by receiving a call from a friend also named Lucy, which she does not answer. The woman mentions the paper that she needs to get home that night to finish. As with all of her areas of expertise that arise, Jake is unusually knowledgeable about the topic of her biological research paper.
Throughout the drive, as well as later scenes in the film, the main narrative is intercut with footage of a janitor working at the local high school. Jake and the janitor have a clear psychological connection, with Jake at times seeming to speak the thoughts of the janitor. This includes Jake referencing his affinity for the high school's musical productions, which he sees each year. He speaks of them as if the woman is already familiar with the school and their theater performances. He says that he occasionally runs into former students he recognizes from past productions as adults, now working in places like the town grocery store. He speaks as if he still lives in his home town. This conversation happens as the janitor is seen viewing rehearsal for the high school's latest musical production and sees student actors rehearsing a dance in the school's hallway.
The young woman, now seemingly a poet, is pressured by Jake into performing one of her works in the car to pass time. After she recites a morbid poem[a] about coming home, they arrive at Jake's parents' farmhouse. Jake takes the young woman to the barn. They see dead lambs, whose bodies have been frozen solid in the snow. Jake hesitantly tells the woman that the farm's pigs recently had to be put down because they were being eaten alive by maggots.
Inside the home, the woman notices strange scratches on the basement door, said to have been made by a dog named Jimmy. The woman refers to the farmhouse as looking like the rural house she grew up on, only to soon after claim that she grew up in an apartment and that this type of house is unfamiliar to her. During dinner with Jake's parents, they are served a roast ham from the farm. Jake's parents ask the woman, now apparently a professional painter, to show them photos of her work. She later refers to herself as a student of quantum physics. She tells the story of how she and Jake met, told with narrative inconsistencies, about the pair meeting at a bar during a trivia night and Jake awkwardly asking for her number. During the chat, she continues to receive calls the very names she is referred to as, all from the same number, all evidently at the same time.
After dinner, the young woman notices a picture of Jake as a child, but becomes confused because she recognizes that child as herself. While eating dessert, Jake's mother reveals that she has been suffering from tinnitus, causing her ears to constantly hear a hissing noise. Jake mentions that the young woman studies gerontology. The young woman receives a call from another "friend", this time from a woman named Yvonne, and a mysterious male voice saying as if speaking to himself, that there is "one question to answer." The woman claims her friend was just saying hello. Soon after, Jake's parents begin to transition back and forth from their younger selves to elderly dementia patients.
When the young woman takes laundry down to the basement, she discovers several identical janitor uniforms in the laundry. She also sees art gallery posters featuring her own landscape paintings made by Jake, realizing that they were actually painted by Ralph Albert Blakelock. She receives the same call from the mysterious voice yet again.[3]
She goes upstairs to look for Jake, entering his childhood bedroom. Eventually, Jake and the young woman finally begin the drive home. Jake mentions several events of a night that the young woman does not remember, including her drinking too much wine; word association soon leads to an extended discussion of John Cassavetes's A Woman Under the Influence.[b] Finding themselves in the middle of a snowstorm, the pair decide to stop at an ice cream store named Tulsey Town. Once there, they meet multiple employees who are also students at the school the janitor works in. While the young woman buys the dessert, a bruised employee attempts to warn her of something she can't describe.
The couple soon decide they do not want their food, and Jake stops at the high school to throw away their mostly full cups. In the parking lot, the pair have an argument but soon begin to make out. Jake notices the janitor watching them from inside the school and decides to confront him, leaving the young woman alone in the car. After a long wait, she decides to look for Jake inside the school. She meets the janitor and, among other things, suddenly begins to tell him that nothing happened between her and Jake on the night they met.
After the young woman discovers Jake at the end of a hall, they look on as people dressed like themselves engage in a lengthy dream ballet, reminiscent of the one in Oklahoma!, with her taking the role of Laurey, Jake taking the role of Curly, and the janitor taking the role of Jud; the male characters fight over her. The ballet ends with the ballet janitor killing ballet Jake with a knife.
Later, the janitor leaves the building after cleaning up the school. After sweeping the snow off of his truck, he suffers a mental breakdown and begins to hallucinate visions of Jake's parents as well as an animated Tulsey Town jingle. He undresses and walks back inside the school completely naked, being led by another hallucination of a maggot-infested pig who tells him that he and his ideas are one and the same, and that he should "get dressed".
On an auditorium stage, Jake receives a Nobel Prize[c] and sings the song Lonely Room[4] from Oklahoma! to a full audience. The audience includes his parents, the Tulsey Town employees, and the young woman, and they give Jake a standing ovation.
The image of Jake, receiving praise, fades into the final shot: the parking lot of the school the next morning. The janitor's truck is covered in snow. There is no evidence Jake's car had been there. The shot remains during the credits. Towards the end of the credits, the sound of an engine turning over can be heard.
Watch I'm Thinking of Ending Things (2020) Movie Online With English Subtitles