Life
Loading advertisement...
I Dislike This
Un-Dislike
Dislike
Life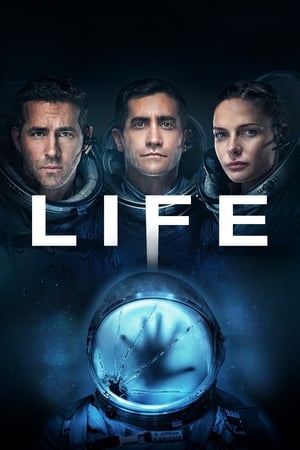 Life
Overview
The six-member crew of the International Space Station is tasked with studying a sample from Mars that may be the first proof of extra-terrestrial life, which proves more intelligent than ever expected.
Cast

Jake Gyllenhaal
Rebecca Ferguson

Ryan Reynolds

Hiroyuki Sanada

Ariyon Bakare
Olga Dihovichnaya
Naoko Mori

Haruka Kuroda
Hiu Woong-Sin

Elizabeth Vargas

David Muir

Jesus Del Orden
Crew

Seamus McGarvey

Rhett Reese

Dana Goldberg

Paul Wernick

Alex Bailey

Donald Mowat
Katharina Hingst
Taglines: Be careful what you search for.
Scientists dedicated to space exploration are hoping to find signs of life on Mars. For twenty years they have been sending all-terrain vehicles there, waiting for confirmation or refutation of their guesses. The results of the work of recent years indicate that this idea is not devoid of rational sense, and every day the expectation of positive reactions becomes more and more justified.
And finally, luck smiled at science. A sample of a single-celled creature found in the planet's soil is delivered to the station. The unknown creature has a biological form, which serves as direct evidence of the existence of an extraterrestrial civilization. At the time of discovery, it remained dormant, but the researchers activated a growth activator, and the alien body woke up. The body steadily gained in size, and eventually turned into a mysterious translucent creature named Calvin.
Astronauts could not foresee that the cutie Calvin would be not just a symbiosis of a mollusk and a flower, but a dangerous predator. The structural features of the body made him invulnerable, which, combined with aggression and an absolute desire to destroy all living things, poses a huge danger not only for the crew, but for all of humanity.
A team of scientists aboard the International Space Station discover a rapidly evolving life form that caused extinction on Mars and now threatens all life on Earth.
Creators: Rhett Reese, Paul Wernick
Director: Daniel Espinosa
Star Cast: Jake Gyllenhaal, Rebecca Ferguson, Ryan Reynolds, Hiroyuki Sanada, Ariyon Bakare, Olga Dihovichnaya
Producer (s): David Ellison, Dana Goldberg, Bonnie Curtis, Julie Lynn
Cinematographer: Seamus McGarvey
Production House: Columbia Pictures, Skydance Media
Music: Jon Ekstrand
Original network / Official Sites: Sony Pictures Entertainment
Release Year: 24 March 2017 (USA)
Runtime: 104 min
Genres: Horror, Sci-Fi, Thriller
Country: UK, USA
Language: English, Japanese, Vietnamese
Subtitles: English
In the near future, the unmanned Pilgrim 7 space probe returns from Mars to Earth orbit with soil samples potentially containing evidence of extraterrestrial life. The probe is intercepted by the International Space Station, whose six-member crew retrieves its samples. Exobiologist Hugh Derry revives a dormant cell from the sample, which quickly grows into a multi-celled organism that American school children name "Calvin." Derry realizes that Calvin's cells can change their specialization, acting as muscle, neuron, and photosensory cells all at once.
A lab accident causes Calvin to become dormant. Derry attempts to revive it with electric shocks, but Calvin attacks him and knocks him unconscious. Calvin escapes its enclosure and it devours a lab rat, growing in size. Engineer Rory Adams tries to rescue Derry, but is quarantined in the lab when Calvin attacks him. Adams tries to fight off Calvin, but is devoured; Calvin escapes through a fire-control vent. Soon after, the station's communication system overheats, cutting off all contact with Earth. ISS commander Ekaterina Golovkina performs a space walk to find and fix the problem, which turns out to be Calvin. Calvin attacks her and ruptures her spacesuit's coolant system. As her suit fills with coolant, Golovkina blindly makes her way to the airlock. She and the crew realize that Calvin will re-enter the station if they let her in, so she chooses to stay outside and drowns in her spacesuit.
Calvin attempts to re-enter the station through its maneuvering thrusters. The crew fire the thrusters to blast it away, but they drain so much fuel that it causes the ISS to enter a decaying orbit, where it will burn up in Earth's atmosphere. Pilot Sho Murakami suggests using the ISS's remaining fuel to get back into a safe orbit even though it will allow Calvin to re-enter. The crew seal themselves in one side of the station and prepare to vent the atmosphere from the other side to render Calvin dormant. Derry suddenly dies and the crew finds Calvin feeding on his leg and are attacked. Murakami seals himself inside a sleeping pod, while Calvin tries to break inside. Physician David Jordan and Quarantine Officer Miranda North use Derry's corpse as bait to lure Calvin away and trap it in the other side. They discover a Soyuz spacecraft is on its way to intercept an earlier distress call from the ISS. As the Soyuz pushes the ISS out of Earth's orbit, Murakami tries to board the craft, which results in the Soyuz crashing into the ISS, killing him and the Soyuz crew and causing the ISS's orbit to decay again.
The remaining survivors, Jordan and North, speculate that Calvin could survive re-entry into Earth's atmosphere, so they plan to lure Calvin into one of the ISS' two escape pods. Once inside, Jordan will manually pilot Calvin's pod into deep space, isolating it and allowing North to return to Earth in the other pod. Their plan works apparently. However, North's pod is eventually hit by debris, while Jordan is attacked by Calvin. As North's pod flies in one direction, she records a black box message to warn Earth of Calvin's threat. Eventually, one of these two pods lands on the sea and is found by Vietnamese fishermen, while the other pod was knocked away from Earth. What the Vietnamese fishermen finds turns out to be Jordan's pod, not North's. The Vietnamese fishermen then open Jordan's pod despite his warnings, as other boats are shown arriving at the scene.
Watch Life (2017) Movie Online With English Subtitles