My Neighbor Totoro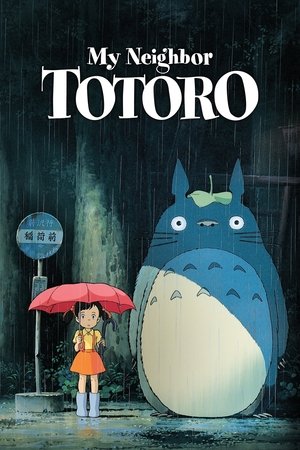 My Neighbor Totoro
となりのトトロ
Overview
Two sisters move to the country with their father in order to be closer to their hospitalized mother, and discover the surrounding trees are inhabited by Totoros, magical spirits of the forest. When the youngest runs away from home, the older sister seeks help from the spirits to find her.
Cast

Noriko Hidaka
Hitoshi Takagi

Chika Sakamoto

Shigesato Itoi
Sumi Shimamoto

Tanie Kitabayashi

Masashi Hirose
Yûko Maruyama

Shigeru Chiba
Toshiyuki Amagasa
Crew
Hayao Miyazaki
Hayao Miyazaki

Joe Hisaishi
Toshio Suzuki
Kazuo Oga
Yoshinori Kanada
Play Now Tonari no Totoro / となりのトトロ / My Neighbor Totoro (1988) Movie Online
The anime takes place in a small provincial town where the sisters Satsuki and Mei recently arrived with their family.The family was forced to move from the big city to the village due to the difficult physical condition of the mother, who went to the hospital. Now all responsibility for cleaning, cooking, washing and much more rests on the shoulders of the father and the fragile shoulders of Satsuki, the eldest daughter in the family. She should not only clean and cook, but also take care of her younger sister Mei while mom is in the hospital and dad is working. Satsuki, being responsible and strong-willed, does not complain to anyone, but tries to do everything too correctly and quickly, sometimes forgetting that little Mei is still a child.
Mei herself wants to constantly walk around the neighborhood, tear off nature, wild thickets, flowering trees and much more, something unfamiliar to a girl born and raised in a large and noisy metropolis. Here she meets a forest spirit named Totoro, who greets the girl in a very friendly and joyful way. Mei soon decides to introduce Totoro and Satsuki, who at first does not believe in the existence of a forest spirit. And very soon Totoro will help the girls in a very important matter.
When two girls move to the country to be near their ailing mother, they have adventures with the wondrous forest spirits who live nearby.
Creators: Hayao Miyazaki
Director: Hayao Miyazaki
Star Cast: Hitoshi Takagi, Noriko Hidaka, Chika Sakamoto
Producer (s): Toru Hara
Cinematographer: Hisao Shirai
Music: Joe Hisaishi
Production House: Tokuma Japan Communications, Studio Ghibli, Nibariki
Original network / Official Sites: Toho
Release Year: 1988 (Japan) & 13 July 1990 (USA)
Runtime: 86 min
Genres: Animation, Family, Fantasy
Country: Japan
Language: English, Japanese
Subtitles: English, Bengali
In 1958 Japan, university professor Tatsuo Kusakabe and his two daughters, Satsuki and Mei, move into an old house to be closer to the hospital where the girls' mother, Yasuko, is recovering from a long-term illness. The house is inhabited by tiny creatures called susuwatari—small, dark, dust-like house spirits seen when moving from light to dark places.[note 1] When the girls become comfortable in their new house, the soot spirits leave to find another empty house.
One day, Mei discovers two small spirits who lead her into the hollow of a large camphor tree. She befriends a larger spirit, which identifies itself by a series of roars that she interprets as "Totoro". She falls asleep atop Totoro, but when Satsuki finds her, she is on the ground. Despite many attempts, Mei is unable to show her family Totoro's tree. Tatsuo comforts her by telling her that Totoro will reveal himself when he wants to.
One rainy night, the girls are waiting for Tatsuo's bus, which is late. Mei falls asleep on Satsuki's back, and Totoro appears beside them, allowing Satsuki to see him for the first time. Totoro has only a leaf on his head for protection against the rain, so Satsuki offers him the umbrella she had taken for her father. Totoro is delighted and gives her a bundle of nuts and seeds in return. A giant, bus-shaped cat halts at the stop, and Totoro boards it and leaves. Shortly after, Tatsuo's bus arrives.
The girls plant the seeds. A few days later, they awaken at midnight to find Totoro and his colleagues engaged in a ceremonial dance around the planted seeds. The girls join in and the seeds grow into an enormous tree. Totoro takes the girls for a ride on a magical flying top. In the morning, the tree is gone but the seeds have indeed sprouted; it is left unclear whether the girls were dreaming.
The girls find out that a planned visit by Yasuko has to be postponed because of a setback in her treatment. Mei does not take this well and argues with Satsuki, later leaving for the hospital to bring fresh corn to Yasuko. Her disappearance prompts Satsuki and the neighbors to search for her. In desperation, Satsuki returns to the camphor tree and pleads for Totoro's help. Delighted to help, he summons the Catbus, which carries her to where the lost Mei sits. The bus then whisks them over the countryside to see Yasuko in the hospital. The girls overhear a conversation between their parents and discover that she has been kept in hospital by a minor cold but is otherwise doing well. They secretly leave the ear of corn on the windowsill, where it is discovered by their parents, and return home.
Eventually, Mei and Satsuki's mother returns home, and the sisters play with other children, while Totoro and his friends watch them from afar.
Watch My Neighbor Totoro (1988) Movie With English Subtitles