Onward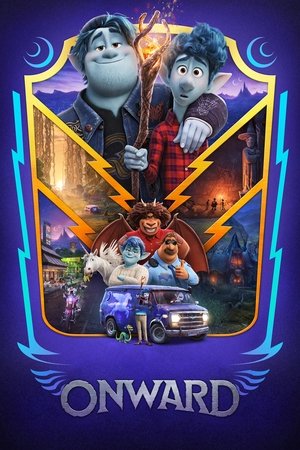 Onward
Overview
In a suburban fantasy world, two teenage elf brothers embark on an extraordinary quest to discover if there is still a little magic left out there.
Cast

Tom Holland
Chris Pratt
Julia Louis-Dreyfus

Octavia Spencer
Mel Rodriguez
Kyle Bornheimer
Lena Waithe
Ali Wong

Grey DeLisle
Tracey Ullman

Wilmer Valderrama
John Ratzenberger
Crew
Mychael Danna
Jeff Danna
Pete Docter
Dan Scanlon
Dan Scanlon
Taglines: Cometh Soon.
Two elven brothers embark on a quest to bring their father back for one day.
Set in a suburban fantasy world, two teenage elf brothers, Ian and Barley Lightfoot, go on a journey to discover if there is still a little magic left out there in order to spend one last day with their father, who died when they were too young to remember him. Like any good quest, their journey is filled with magic spells, cryptic maps, impossible obstacles and unimaginable discoveries. But when the boys' fearless mom Laurel realizes her sons are missing, she teams up with the legendary winged-lion-scorpion former warrior — aka The Manticore — and heads off to find them. Perilous curses aside, this one magical day could mean more than any of them ever dreamed.
Creators: Dan Scanlon, Keith Bunin, Jason Headley
Director: Dan Scanlon
Star Cast: Tom Holland, Chris Pratt, Julia Louis-Dreyfus, Octavia Spencer
Producer (s): Kori Rae
Cinematographer: Sharon Calahan, Adam Habib
Production House: Walt Disney Pictures, Pixar Animation Studios
Music: Mychael Danna, Jeff Danna
Original network / Official Sites: Disney+, Motion Pictures
Release Year: 6 March 2020 (USA)
Runtime: 102 min
Genres: Animation, Adventure, Comedy, Family, Fantasy
Country: USA
Language: English
Subtitles: English, Bangle
In a world inhabited by mythical creatures, magic was commonplace several millennia ago, though difficult to master. After technological advances over the centuries, magic became obsolete and was largely discarded.
In the modern day, two elf brothers, Ian and Barley Lightfoot, live in the city of New Mushroomton. Ian, the younger of the two, is a high-school student lacking self-confidence, and Barley is an enthusiastic, impulsive history and RPG fan. Their father Wilden died of a severe illness shortly before Ian was born, and their mother Laurel has a new boyfriend, centaur police officer Colt Bronco, whom Ian and Barley dislike.
On Ian's sixteenth birthday, Laurel gives her sons a gift from Wilden: a magical staff, a rare gem, and a letter describing a "visitation spell" that can resurrect their father for a single day. Ian accidentally succeeds in casting the spell, but only the lower half of Wilden's body is reformed before the gem disintegrates. The brothers embark on a quest to acquire another gem and complete the spell, taking Barley's beloved van "Guinevere". Finding the boys gone, Laurel leaves to find them.
Ian and Barley visit the Manticore's Tavern, named for a monster possessing a map to the gem. The tavern has become a family restaurant managed by the Manticore ("Corey" for short). While arguing with Ian over the map, Corey realizes how boring her life has become and drives the customers away in a fit of rage, accidentally setting fire to the restaurant and the map. The brothers' only clue to the gem is a children's menu suggesting "Raven's Point", a nearby mountain. Laurel later arrives at the scene and befriends Corey, who agrees to help her. Corey warns Laurel that the brothers' journey may awaken a curse that can only be defeated by her sword, which she and Laurel steal from a pawn shop.
Traveling to the mountains, Ian and Barley narrowly escape the police and a motorcycle gang of pixies,[7] relying on Ian's newly awakened spell-casting abilities and Barley's RPG instincts. "Raven's Point" leads them on a trail indicated by a series of raven statues, but Colt follows them, calling in reinforcements. After coming to a dead end, Barley sacrifices Guinevere to cause a landslide, blocking their pursuers. Following the statues, the brothers descend through a cave and avoid a series of traps and deadly creatures, during which Barley reveals to Ian that he was unable to emotionally bring himself to say goodbye to Wilden when he was dying in the hospital. The final obstacle sends them back to the surface, where they find themselves in front of Ian's high school. Infuriated at Barley's advice, Ian lashes out at him for leading them on a wild goose chase and walks away with Wilden.
Rereading his list of things he always wished to do with Wilden, Ian realizes that Barley has been a father figure throughout his entire life, and returns to make amends. Barley discovers the needed gem inside a historic fountain across the street from high school and retrieves it, unwittingly triggering the curse Corey spoke of, which creates a dragon-shaped golem out of pieces of the school and other nearby objects, bent on claiming the gem. Ian's staff is knocked into the ocean during a battle with the golem, but he reforms it from a splinter embedded in his hand and continues the fight. Corey flies in carrying Laurel, who plunges the magic sword into the golem heart, buying Ian time to cast the visitation spell and fully reform Wilden's body. Ian sends Barley ahead to finally give his proper goodbye to Wilden, and holds off the golem long enough for Laurel to destroy it. After Wilden dissipates, Barley tells Ian that their father is proud of him, and the brothers share a hug.
Some time later, Ian's confidence and spell-casting have improved and he surprises Barley by painting his new van, christened "Guinevere The Second". Corey reopens her tavern in its original spirit, drawing in customers with tales of past adventures. She and Laurel become friends, and Ian and Barley develop a better relationship with Colt. As the world begins to rediscover the magical arts of the past, the brothers set off on a new quest.
Watch Onward Movie With English Subtitles FULLHD