Pets United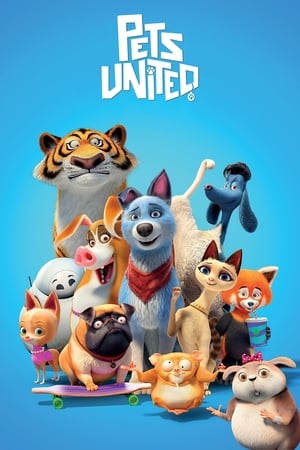 Pets United
Overview
When Roger (a Robin Hood-esque, stray dog) and Belle (an elegant yet spoilt pet cat) are thrown together amidst the chaos of a robot take-over of their home city, they must push all their preconceptions aside in order to survive, as they embark on a high-stakes, action-packed adventure.
Cast
Natalie Dormer
Eddie Marsan

Harvey Friedman

Bryan Larkin
Naomi McDonald
The real misfortune can force even sworn enemies to compromise and unite. A stray dog ​​named Roger gained popularity in Robo City thanks to his own courage, fearlessness and unselfishness. The brave robber was never afraid to get involved in dangerous adventures, but he earned his true fame when he began to steal food from rich fat lugs and distribute food to the poor, sick and old animals that themselves could not hunt or get food. Belle is a spoiled domestic cat who is accustomed to being adored, delicious food, beautiful toys and soft feather beds. Now they must drop all prejudices and become members of the same team.
Mayor Frank Stone seriously decides to turn a beautiful and prosperous city into the capital of robots, and the locals who oppose his crazy venture, evict to the outskirts or even drive away. A company of motley pets is going to resist the devastation and chaos that threatens all. The upcoming struggle will not be easy, but they are ready to lend a paw to help people. Each of the furry heroes will have to get out of their comfort zone and fight, the only way they can defend their homes and punish the instigator of the riots.
A group of spoilt, selfish pets led by glamour cat Belle are stranded in their luxury hangout 'Pampered Pets,' when the machines that run Robo City, the hypermodern metropolis that they live in, go wild and take over.
Creators: Reinhard Klooss
Director: Reinhard Klooss
Star Cast: Patrick Roche, Natalie Dormer, Eddie Marsan, Jeff Burrell
Producer (s): Hua Shen, Reinhard Klooss, Yan Xun
Production House: Joyhil Media And Culture, Screencraft Entertainment, Timeless Films, Eurosino Entertainment, GmbH, China Film Group, Fish Blowing Bubbles
Music: David Newman
Original network / Official Sites: Netflix
Release Year: 11 September 2020 (USA)
Runtime: 89 min
Genres: Animation, Adventure, Comedy
Country: Germany, China, UK
Language: English
Subtitles: English
Watch Pets United (2020) Movie Online With English Subtitles