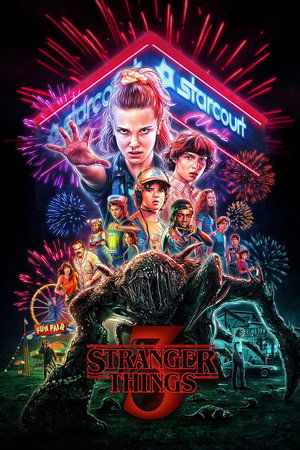 Stranger Things
Overview
When a young boy vanishes, a small town uncovers a mystery involving secret experiments, terrifying supernatural forces, and one strange little girl.
Cast

Winona Ryder

David Harbour

Finn Wolfhard
Millie Bobby Brown

Gaten Matarazzo

Caleb McLaughlin

Natalia Dyer
Charlie Heaton

Sadie Sink
Dacre Montgomery
Cara Buono
Noah Schnapp

Joe Keery
Priah Ferguson

Maya Hawke

Dinarte de Freitas
Crew

Matt Duffer

Shawn Levy
Ross Duffer
Seasons
Season 1
Stranger Things 2

Stranger Things 3

Stranger Things 4
Stranger Things is an American science fiction horror drama television series created by the Duffer Brothers and streaming on Netflix. The brothers serve as showrunners and are executive producers along with Shawn Levy and Dan Cohen. The series premiered on Netflix on July 15, 2016. Set in the 1980s in the fictional town of Hawkins, Indiana, the first season focuses on the investigation into the disappearance of a young boy (Will Byers) amid supernatural events occurring around the town, including the appearance of a girl with psychokinetic abilities (Eleven). The second season focuses on Will's side effects from being in the Upside Down with its entities crawling into the real world. The third season focuses Eleven and Mike's relationship as the kids continue their battle against the Upside Down entities. The series stars an ensemble cast including Winona Ryder, David Harbour, Finn Wolfhard, Millie Bobby Brown, Gaten Matarazzo, Caleb McLaughlin, Noah Schnapp, Sadie Sink, Natalia Dyer, Charlie Heaton, Joe Keery, Cara Buono and Dacre Montgomery.
In a small town where everyone knows everyone, a peculiar incident starts a chain of events that leads to the disappearance of a child, which begins to tear at the fabric of an otherwise peaceful community. Dark government agencies and seemingly malevolent supernatural forces converge on the town, while a few of the locals begin to understand that there's more going on than meets the eye.
The Duffer Brothers developed the series as a mix of investigative drama alongside supernatural elements portrayed with horror, science fiction and childlike sensibilities. Setting the series in the 1980s, the Duffer Brothers infused references to the pop culture of that decade while several themes and directorial aspects were inspired primarily by the works of Steven Spielberg, John Carpenter, and Stephen King, as well as anime and video games. They also took inspiration from strange experiments that took place during the Cold War and real world conspiracy theories involving secret government experiments.
Stranger Things has attracted record viewership on Netflix and has a broad, active and international fan base. The series has received critical acclaim for its characterization, pacing, atmosphere, acting, soundtrack, directing, writing, and homages to 1980s films. The series has received multiple awards and nominations including 39 Primetime Emmy Award nominations (and six wins), four Golden Globe Award nominations, a British Academy Television Award nomination, two Directors Guild of America Award nominations, three Writers Guild of America Award nominations, and three Grammy Award nominations. It has won a Screen Actors Guild Award for Outstanding Performance by an Ensemble in a Drama Series, two American Film Institute awards, a Critics' Choice Television Award, and three People's Choice Awards, among others. In September 2019, the series was renewed for a fourth season, which will premiere in mid-2022. The Duffer Brothers have said that Stranger Things is likely to end after its fourth or fifth season.
Watch Netflix Web Series Stranger Things All Episodes