The Dark Knight Rises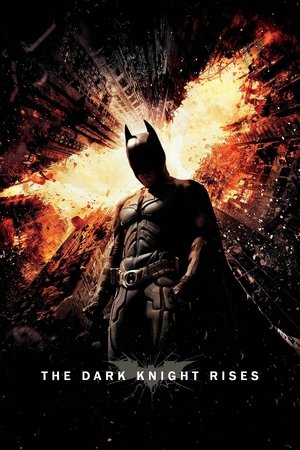 The Dark Knight Rises
Overview
Following the death of District Attorney Harvey Dent, Batman assumes responsibility for Dent's crimes to protect the late attorney's reputation and is subsequently hunted by the Gotham City Police Department. Eight years later, Batman encounters the mysterious Selina Kyle and the villainous Bane, a new terrorist leader who overwhelms Gotham's finest. The Dark Knight resurfaces to protect a city that has branded him an enemy.
Cast

Christian Bale

Michael Caine

Gary Oldman

Anne Hathaway
Tom Hardy
Marion Cotillard
Joseph Gordon-Levitt

Morgan Freeman
Matthew Modine
Juno Temple
Ben Mendelsohn
Burn Gorman

Daniel Sunjata
Cillian Murphy
Alon Aboutboul

Liam Neeson
Nestor Carbonell

Josh Stewart

Aidan Gillen
Tom Conti

Joey King

Josh Pence
John Nolan

Warren Brown
Miranda Nolan

Claire Julien
Brett Cullen

Reggie Lee
Joseph Lyle Taylor
Chris Ellis
Duane Henry

James Harvey Ward

Gonzalo Menendez
Cameron Jack
Tyler Dean Flores

Thomas Lennon
Trevor White

Rob Brown

Fredric Lehne

Travis Guba

Jay Benedict
Will Estes

David Dayan Fisher
Glen Powell
Russ Fega
Andres Perez-Molina
Brent Briscoe
Oliver Cotton

Mark Killeen
Sarah Goldberg

John Macmillan

Robert Wisdom
Ronnie Gene Blevins

John Hollingworth

Ian Bohen
Uri Gavriel

Noel Gugliemi

Hector Atreyu Ruiz
Patrick Cox
Aramis Knight

William Devane
David Gyasi
Joshua Elijah Reese
Desmond Harrington
Tomas Arana

Peter Holden

David Monahan

Jillian Armenante
Aja Evans
Wade Williams
Jake Canuso
Massi Furlan
Christopher Judge
Patrick Leahy

Daniel Newman
Fileena Bahris
Bill Cowher
Graham Curry
Aaron Eckhart

John Farrer
Ed Heavey

John W. Iwanonkiw

Michael Papajohn

Tiffany Sander McKenzie

Olan Montgomery
Kyle David Pierce
Troy Polamalu
Kirsten Roeters

Ben Roethlisberger
Eric Salazar
Thomas Tull

Chris Vaina
Jason Yee

Alex Ziwak
Tommy Bayiokos
Gary Sievers
London May
James Quinn
Joe Fishel
Ming Wang
Simon Rhee
Crew

Hans Zimmer
Charles Roven

Christopher Nolan

Christopher Nolan

Christopher Nolan

Christopher Nolan

Jonathan Nolan
Emma Thomas
Wally Pfister
Wally Pfister
John Papsidera

David S. Goyer

Bob Kane
Lee Smith

Michael Uslan
Jim Palmer

Nathan Crowley
Thomas Tull
Zack Grobler

Kevin Kaska
Rick Avery
Gary Rizzo
Doug Coleman

Anthony Molinari

Christopher Place

Barbara Harris
Roy T. Anderson
Adam Horton
Chris Corbould
Raymond Mamrak
David Gere
Samantha MacIvor

Jared Burke
Bryan O. Watkins
Cuitlahuac Morales Velazquez
P. Scott Sakamoto

Craig Hosking

Craig Hosking
Toby Britton
Vans Pradeep Singh Rathore

Brian Smyj
Victor Paguia
Rex Reddick
Dan Brown
Aja Frary
Scotty Richards

Chris Cenatiempo
Tom Struthers
Scott Burik
Mike Burke
Shane Geraghty

Kevin Rogers

Caroline Vexler

Nilo Otero

Nilo Otero
Rick Shuster
Jack Taggart
Laura Drake Mancini
Soren Bendt Aaboe Pedersen
Joonas Koivula
Taglines: A Fire Will Rise.
Batman, who became the killer of Harvey Dent for the whole of Gotham, has spent eight long years imprisoned. Because of the decision taken by him and Commissioner Gordon that it would be better for everyone, Batman sacrifices everything. Thanks to the anti-criminal act of the prosecutor, peace reigned in the city. But a serious criminal escapes – Bane, who wears a mask that supplies him with anesthetic gas. He keeps all the Gotham City in awe and unleashes criminal activity. In addition, during the solemn event, a mysterious stranger enters the Batman mansion and steals one valuable thing.
This forces Wayne to step out of an impromptu exile and put on a batman costume. But even wearing it, he can lose to a new enemy. In the very first battle that took place, Bane overcomes him and puts him in prison under the name "Pit", from which it is impossible to get out. But for the "Dark Knight" there is nothing not possible. Meanwhile, Bane gains power over Gotham, and only Batman can save the city. And unexpectedly, he will find a new ally.
Eight years after the Joker's reign of anarchy, Batman, with the help of the enigmatic Catwoman, is forced from his exile to save Gotham City from the brutal guerrilla terrorist Bane.
Despite his tarnished reputation after the events of The Dark Knight (2008), in which he took the rap for Dent's crimes, Batman feels compelled to intervene to assist the city and its Police force, which is struggling to cope with Bane's plans to destroy the city.
Also Known As: Arkham
Creators: Christopher Nolan, Jonathan Nolan, David S. Goyer, Bob Kane
Director: Christopher Nolan
Star Cast: Alon Aboutboul, Anne Hathaway, Christian Bale, Gary Oldman, Joseph Gordon-Levitt, Marion Cotillard, Matthew Modine, Michael Caine, Morgan Freeman, Tom Hardy,
Producer (s): Christopher Nolan, Charles Roven, Emma Thomas,
Cinematographer: Wally Pfister
Production House: Warner Bros., Legendary Entertainment, DC Entertainment, DC Comics, Syncopy
Music: Hans Zimmer
Original network / Official Sites: 20th Century Fox, ACME, Alexandra Films, Continental Film, Roadshow Films, Village Films, Amazon Prime Video
Release Year: 20 July 2012 (USA)
Runtime: 164 min
Genres: Action, Adventure, Crime, Drama, Thriller,
Country: USA, UK
Language: English, Arabic
Subtitles: English
Watch The Dark Knight Rises Movie With English Subtitles FULLHD