The Dark Knight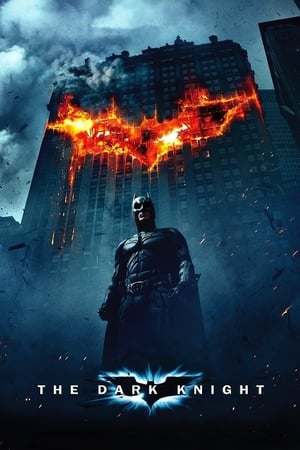 The Dark Knight
Overview
Batman raises the stakes in his war on crime. With the help of Lt. Jim Gordon and District Attorney Harvey Dent, Batman sets out to dismantle the remaining criminal organizations that plague the streets. The partnership proves to be effective, but they soon find themselves prey to a reign of chaos unleashed by a rising criminal mastermind known to the terrified citizens of Gotham as the Joker.
Cast

Christian Bale
Heath Ledger

Michael Caine

Gary Oldman
Aaron Eckhart

Maggie Gyllenhaal

Morgan Freeman
Nestor Carbonell
Monique Gabriela Curnen
Ron Dean

Chin Han
Eric Roberts
Ritchie Coster
Anthony Michael Hall
Keith Szarabajka

Joshua Harto
Melinda McGraw

Nathan Gamble

Michael Jai White
Colin McFarlane

Nydia Rodriguez Terracina

Tom 'Tiny' Lister Jr.
William Fichtner
Cillian Murphy
Patrick Leahy
Matt Skiba

David Dastmalchian

Michael Vieau
Michael Stoyanov

William Smillie
Danny Goldring

Olumiji Olawumi

Beatrice Rosen
Edison Chen

James Farruggio

Will Zahrn

James Fierro
Sam Derence
Patrick Clear
Charles Venn
Winston Ellis
Keith Kupferer
Richard Dillane

Paul Birchard
Vincent Riotta

Nancy Crane
K. Todd Freeman

Michael Andrew Gorman

Matt Rippy

Andrew Bicknell

Ariyon Bakare

Doug Ballard

Tommy Campbell

Craig Heaney
Lorna Gayle

Lisa McAllister

Peter Brooke
Dale Rivera

Matthew Leitch

Thomas Gaitsch

William Armstrong

Bronson Webb

David Ajala
Jonathan Ryland

Ian Pirie

Roger Monk

Ronan Summers

Wai Wong
Jon Lee Brody
Kelli Clevenger

Tony Domino

Natalie Hallam

Erron Jay
Nicky Katt

Tim Krueger
Tom McComas
Joseph Oliveira

Buster Reeves
John Turk
John Warman
Chris Wilson
Rob Clark
Crew

Hans Zimmer
Charles Roven

Christopher Nolan

Christopher Nolan

Christopher Nolan

Christopher Nolan

Jonathan Nolan
Emma Thomas
Wally Pfister
John Papsidera
James Newton Howard

David S. Goyer

Bob Kane
Lee Smith

Michael Uslan

Nathan Crowley
Thomas Tull

Kevin Kaska
Rick Avery
Gary Rizzo

Nick Davis
Jessie Graff
Chris Corbould
David Gere

Lora Hirschberg

Rick Le Fevour
Doug Hemphill

Ian Hunter

Mark Mottram
Tom Struthers
Tom McComas

Nilo Otero
Taglines: Welcome to a world without rules.
The city of Gotham lived a quiet and peaceful life, but it did not last long. Peaceful existence came to an end after the return of the evil, cruel and ruthless Joker. On his face there is a huge scar in the form of a smile, there is no place for good in the soul, and in his thoughts he constantly tries to build a cunning and criminal plan. Order in the town try to maintain two noble main characters. The first is the prosecutor, whose name is Harvey Dent. It is impossible to bribe him, because he is very fair and reasonable. With all his strength, he tries to confront the criminal world only through official means.
The second is Bruce Wayne. Many people know him as Batman, but the local population calls him an unknown superhero. But he was already tired of hiding and hiding his face, so he can openly fight with the enemy. Harvey is not opposed to combine their efforts, but Bruce is not very easy to do, because he is building a relationship with his beloved Rachel. The bandits are brewing a lot of new crimes, so it will be impossible to avoid confrontation. Heroes will make all their efforts in order to send him to jail. But after the appearance of the two-faced, everything is only complicated.
When the menace known as the Joker wreaks havoc and chaos on the people of Gotham, Batman must accept one of the greatest psychological and physical tests of his ability to fight injustice.
Also Known As: Batman Begins 2
Creators: Jonathan Nolan, Christopher Nolan, Christopher Nolan, David S. Goyer, Bob Kane
Director: Christopher Nolan.
Star Cast: Christian Bale, Heath Ledger, Aaron Eckhart, Michael Caine, Maggie Gyllenhaal, Gary Oldman, Morgan Freeman, Monique Gabriela Curnen, Ron Dean
Producer (s): Christopher Nolan, Lorne Orleans, Charles Roven, Emma Thomas
Cinematographer: Wally Pfister
Production House: Warner Bros., Legendary Entertainment, Syncopy
Music: James Newton Howard, Hans Zimmer
Original network / Official Sites: 20th Century Fox
Release Year: 18 July 2008 (USA)
Runtime: 152 min
Genres: Action, Crime, Drama, Thriller.
Country: USA, UK
Language: English, Mandarin
Subtitles: English
Watch The Dark Knight Movie With English / Spain / Bangla Subtitles FULLHD