The Great Escape
Loading advertisement...
Up next
Some Like It Hot
Cancel
I Dislike This
Un-Dislike
Dislike
The Great Escape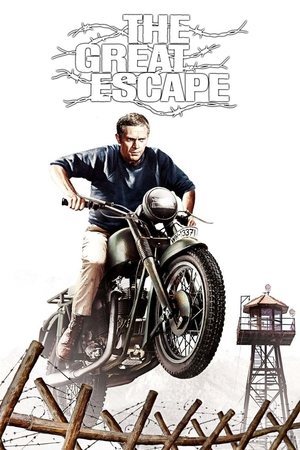 The Great Escape
Overview
The Nazis, exasperated at the number of escapes from their prison camps by a relatively small number of Allied prisoners, relocate them to a high-security 'escape-proof' camp to sit out the remainder of the war. Undaunted, the prisoners plan one of the most ambitious escape attempts of World War II. Based on a true story.
Cast

Steve McQueen

James Garner
Richard Attenborough
James Donald

Charles Bronson

Donald Pleasence

James Coburn

Hannes Messemer
David McCallum

Gordon Jackson
Nigel Stock
Robert Graf
Hans Reiser

Harry Riebauer

William Russell

Ulrich Beiger

Lawrence Montaigne

Til Kiwe
Heinz Weiss
Tom Adams
Crew
Elmer Bernstein

John Sturges

John Sturges
Walter Mirisch
Taglines: From a barbed-wire camp to a barbed-wire country, they made… [The Great Escape]
The movie is based on real events. The action takes place in the Luftwaffe camp, which was specially built for those prisoners who escaped a huge number of times, and all these "monsters" of escape were placed in one special camp.
The film is based on the book of Paul Brickhill, which is based on his memoirs. A group of prisoners of war, consisting of American, British and Canadian soldiers, the Germans each time spend a lot of energy to capture them. As a result, they are placed in a special prisoner of war camp with higher protection. It was built specifically for such especially dangerous prisoners who do not sit still. During the transfer of prisoners, the head of this camp informs the prisoners that they will not be able to escape from here, but the British Air Force Colonel considers the escape from the camp as his duty.
Based on a true story, a group of allied escape artist-type prisoners-of-war are all put in an "escape proof" camp. Their leader decides to try to take out several hundred all at once. The first half of the movie is played for comedy, as the prisoners mostly outwit their jailers to dig the escape tunnel. The second half is high adventure as they use planes, trains, and boats to get out of occupied Europe.
Allied prisoners of war plan for several hundred of their number to escape from a German camp during World War II.
Based on The Great Escape by Paul Brickhill
Creators: James Clavell, W. R. Burnett
Director: John Sturges
Star Cast: Steve McQueen, James Garner, Richard Attenborough
Producer (s): John Sturges
Cinematographer: Daniel L. Fapp
Music: Elmer Bernstein
Production House: The Mirisch Company, Alpha
Original network / Official Sites: United Artists
Release Year: 4 July 1963 (USA)
Runtime: 172 min
Genres: Adventure, Drama, History, Thriller, War
Country: USA
Language: English, German, French, Russian, Spanish
Subtitles: English, Bengali
In 1942, having expended enormous resources on recapturing escaped Allied POWs, the German armed forces move the most determined to a new, high-security prisoner-of-war camp supervised by Luftwaffe Colonel von Luger.
Prisoners try to escape almost immediately; USAAF Captain Virgil Hilts and Scottish RAF Flying Officer Archibald "Archie" Ives are both imprisoned in isolation in the "cooler" (solitary confinement block[8]).
The prisoners' escape committee mount an audacious plan to tunnel out of the camp and break out 250 men, not only to escape, but so that as many troops and resources as possible will be wasted on finding POWs. Led by RAF Squadron Leader Roger Bartlett, "Big X", and senior British officer Group Captain Ramsey, the men organise into teams. American Flight Lieutenant Robert Hendley is "the scrounger" and blackmailer, who finds anything from a camera to identity cards. Australian Flying Officer Louis Sedgwick, "the manufacturer", makes tools like picks and bellows for pumping air into the tunnels. Flight Lieutenants Danny Velinski and William "Willie" Dickes are "the tunnel kings" in charge of digging. Flight Lieutenant Andrew MacDonald, Bartlett's second-in-command, gathers and provides intelligence. Lieutenant Commander Eric Ashley-Pitt of the Royal Navy devises a method of dispersing soil from the tunnels under the guards' noses. Flight Lieutenant Griffith is "the tailor", creating civilian outfits from scavenged cloth. Forgery is handled by Flight Lieutenant Colin Blythe. The prisoners work on three tunnels simultaneously, calling them "Tom", "Dick", and "Harry". The work noise is covered by the prisoner choir led by Flt. Lt. Dennis Cavendish, the surveyor.
Hilts and Ives escape again, in vain. When Hilts is released from the cooler, Bartlett asks him to escape, scout the area immediately surrounding the camp and allow himself to be recaptured; Hilts refuses. Meanwhile, Hendley forms a friendship with German guard Werner, exploiting it to obtain travel documents and other needed items. Soon, Bartlett orders "Dick" and "Harry" sealed off: "Tom" is closest to completion. The prisoners are enjoying a 4th of July celebration arranged by the Americans when the guards discover "Tom". Despondent, Ives frantically climbs the barbed wire fence and is shot dead.
The prisoners switch their efforts to "Harry", and Hilts agrees to provide reconnaissance from outside the camp. The information he brings back is used to create maps to guide the escapees. Blythe discovers that he is going blind due to progressive myopia;[9] Hendley takes it upon himself to be Blythe's guide in the escape. The last part of the tunnel is completed on the scheduled night, but it proves to be twenty feet (about 6 m) short of the woods due to faulty surveying. Knowing there are no other options, Bartlett orders the escape to go ahead. The claustrophobic Danny nearly refuses to go, but is helped along by Willie. Seventy-six prisoners get away, aided by an air-raid blackout. The escape is discovered when Griffith impatiently exits the tunnel in view of a guard.
All 76 POWs flee through various parts of the Third Reich. Danny and Willie steal a rowboat and proceed downstream to a major port, where they board a Swedish merchant ship. Sedgwick steals a bicycle, then rides hidden on a train to France, where the French Resistance get him to Spain. Cavendish hitches a ride in a truck but is delivered to the authorities, discovering many other fellow prisoners recaptured. Hendley and Blythe steal a plane to fly over the Swiss border, but the engine fails, and they crash-land. Blythe is shot by German soldiers. As he dies, he thanks Hendley for getting him out. Hendley is recaptured. Hilts steals a motorcycle at a checkpoint, jumping a series of barbed-wire fences at the German-Swiss border to escape from German soldiers; he lands in the wire of the second fence and is recaptured. While waiting to pass through a Gestapo checkpoint at a railway station, Bartlett is recognized by Kuhn, a Gestapo agent; Ashley-Pitt sacrifices himself by killing Kuhn, and is shot and killed. Bartlett and MacDonald slip away, but MacDonald blunders by replying in English to a suspicious Gestapo officer. MacDonald is quickly apprehended, and Bartlett is recognized and recaptured by Untersturmführer Steinach, an SS agent.
In mid-transport, prisoners in one truck, including Bartlett, MacDonald and Cavendish, are invited to stretch their legs in a field, whereupon they are all shot dead on the pretense that they were trying to escape. Hilts, Hendley and ten others are returned to the camp. In all, 50 men were killed, 23 were caught and only 3 successfully escaped. Von Luger is relieved of command. Hilts goes to the cooler where he optimistically plans another escape, as he has done before.
Watch The Great Escape (1963) Movie With English Subtitles