The Lord of the Rings: The Fellowship of the Ring
Loading advertisement...
Up next
The Lord of the Rings
Cancel
I Dislike This
Un-Dislike
Dislike
The Lord of the Rings: The Fellowship of the Ring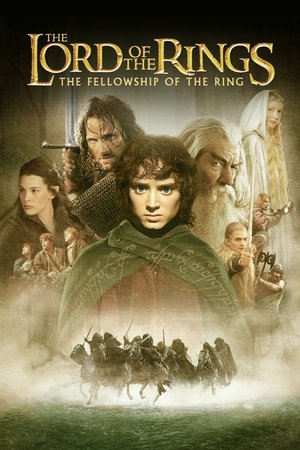 The Lord of the Rings: The Fellowship of the Ring
Overview
Young hobbit Frodo Baggins, after inheriting a mysterious ring from his uncle Bilbo, must leave his home in order to keep it from falling into the hands of its evil creator. Along the way, a fellowship is formed to protect the ringbearer and make sure that the ring arrives at its final destination: Mt. Doom, the only place where it can be destroyed.
Cast
Elijah Wood
Ian McKellen

Liv Tyler

Viggo Mortensen

Sean Bean
Sean Astin

Cate Blanchett

John Rhys-Davies

Billy Boyd

Dominic Monaghan
Orlando Bloom

Christopher Lee
Hugo Weaving

Ian Holm

Andy Serkis

Marton Csokas

Craig Parker

Lawrence Makoare

Alan Howard
Noel Appleby

Sala Baker

Michael Elsworth
Mark Ferguson
Brent McIntyre

Peter McKenzie
Sarah McLeod
Ian Mune

Cameron Rhodes

Martyn Sanderson

Harry Sinclair
David Weatherley
Clinton Ulyatt
Phil Grieve
Billy Jackson
Katie Jackson

Lori Dungey

Norman Forsey
Elizabeth Moody
Brian Sergent

Kate O'Rourke
Gino Acevedo

Jed Brophy
Rachel Clentworth

Sabine Crossen
Peter Daube
Mana Hira Davis
Shane Dawson

Siaosi Fonua

Ben Fransham

Zo Hartley

Ray Henwood
Peter Jackson
Tim Kano

Alan Lee

Bret McKenzie
Tim McLachlan
Andrew Munro

Shane Rangi

Larry Rew

Grant Roa
Thomas Robins

Vincent Roxburgh

Chris Ryan
Paul Shapcott

Samuel E. Shore

Mike Stearne

Andrew Stehlin

Ken Stratton
Jo Surgison
Tim Wong
Robert Young
Crew

Barrie M. Osborne
Howard Shore
Peter Jackson
Peter Jackson
Peter Jackson
Bob Weinstein

Harvey Weinstein
Mark Ordesky

J.R.R. Tolkien
Fran Walsh
Fran Walsh

Philippa Boyens
Andrew Lesnie
John Gilbert

Alan Lee

Alan Lee

John Howe

Ngila Dickson

Richard Taylor
John Hubbard

Liz Mullane

Sala Baker

Dan Hennah

Jamie Selkirk
David Farmer
Robert Shaye

Jules Cook
Geoff Murphy

Peter Swords King

Peter Swords King

Ethan van der Ryn
Michael Semanick
Mike Hopkins
Christian Rivers

Jim Rygiel
Rick Porras
Hammond Peek
Hammond Peek
Richard Taylor
Daniel Falconer
Bilbo Baggins has lived a long and adventurous life. In his youth, he spent a lot of time wandering around the world, participated in the struggle for power among the dwarfs and received a magic ring, which became a stumbling block for all his further accomplishments. Now he is a simple old man who entertains the surrounding children with a trick of disappearing and is preparing to celebrate his 111 birthday. Good mage Gandolph Gray is announced for the holiday to his old friend. He declares from the threshold that a decisive battle is coming, the outcome of which will forever change the order existing in Middle-earth. In order for the forces of good to win, it is necessary to destroy the cherished ring, which is necessary for the dark lord in this confrontation. If the jewel is in the hands of Sauron, the chances are no longer there.
Bilbo reluctantly passes the decoration on to his nephew, the young hobbit Frodo. He takes an oath that will take him to the mountain of fire, where he will be thrown into boiling lava. Only in this way can one destroy the absolute power ring. Together with three buddies, the nedorlik sets off on a journey that lasts for months. In his footsteps a detachment of ghostly horsemen, sent by an evil sorcerer, is already moving.
A meek Hobbit from the Shire and eight companions set out on a journey to destroy the powerful One Ring and save Middle-earth from the Dark Lord Sauron.
Also Known As: The Lord of the Rings: The Fellowship of the Ring: The Motion Picture
Creators: Fran Walsh, Peter Jackson, Philippa Boyens,
Director: Peter Jackson
Star Cast: Billy Boyd, Dominic Monaghan, Elijah Wood, Ian McKellen, John Rhys-Davies, Liv Tyler, Orlando Bloom, Sean Astin, Sean Bean, Viggo Mortensen,
Producer (s): Fran Walsh, Mark Ordesky, Peter Jackson,
Cinematographer: Andrew Lesnie
Production House: New Line Cinema, WingNut Films, The Saul Zaentz Company
Music: Howard Shore
Original network / Official Sites: New Line Cinema, A-Film Distribution, Warner Bros., HBO Max
Release Year: 19 December 2001 (USA)
Runtime: 222 min (Special DVD Extended Edition)
Genres: Action, Adventure, Drama, Fantasy
Country: USA, New Zealand,
Language: English, Sindarin
Subtitles: English, Bangla
Watch The Lord of the Rings: The Fellowship of the Ring Movie With English Subtitles FULLHD