Two for the Money
Loading advertisement...
I Dislike This
Un-Dislike
Dislike
Two for the Money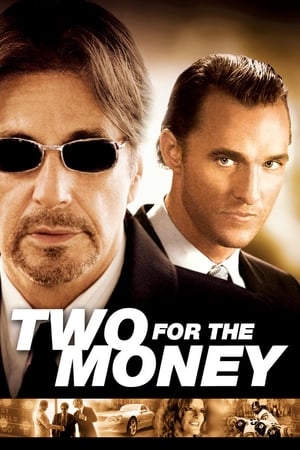 Two for the Money
Overview
A former college athlete joins forces with a sports consultant to handicap football games for high-rolling gamblers.
Cast
Al Pacino
Matthew McConaughey

Rene Russo
Armand Assante

Jeremy Piven

Jaime King

Kevin Chapman

Gedde Watanabe

Carly Pope

Craig Veroni

Gerard Plunkett
Steve Makaj

Gary Hudson
James Kirk
Justin Riemer
Crew

James G. Robinson

Rene Russo
Christophe Beck
Dan Gilroy
Dan Gilroy
Taglines: How much will you risk?
The plot of this fascinating film will introduce viewers to a young guy named Brandon, whose life until a certain point was quite happy. He had a favorite thing, with the help of which he earned his living, and he earned not even badly. This continued until the moment when the main character, a football player of the famous football team at that time, was seriously injured, as a result of which he was forced to say goodbye to his career forever.
Now he had to look for another method of earning money, but it was not so easy to do it. One fine day, the main character managed to remember his former friend who worked in a bookmaker's office. It turns out that in the past, this man has repeatedly offered the football player to crank up various scams with the help of which one could get rich.
Then the main character refused, but now life forced him to turn to Walter. The bookmaker, knowing full well that together with the forward, it will be possible to make good money, decides to conclude a so-called bet with him. From that day on, Brandon and Walter entered into a monstrous game where losing would be tantamount to death. Viewers will learn about this after watching a movie.
After suffering a career-ending knee injury, a former college football star aligns himself with one of the most renowned touts in the sports-gambling business.
Also Known As: For the Money
Creators: Dan Gilroy
Director: D.J. Caruso
Star Cast: Al Pacino, Matthew McConaughey, Rene Russo, Armand Assante, Jeremy Piven
Producer (s): James G. Robinson, Jay Cohen, Guy McElwaine
Cinematographer: Conrad W. Hall
Production House: Universal Pictures, Morgan Creek Entertainment, Cosmic Entertainment
Music: Christophe Beck
Original network / Official Sites: Universal Pictures
Release Year: 7 October 2005 (USA)
Runtime: 122 min
Genres: Crime, Drama, Sport
Country: USA
Language: English
Subtitles: English
Brandon Lang is a former college football star who, after sustaining a career-ending injury, takes a job handicapping football games. His success at choosing winners catches the eye of Walter Abrams, the slick head of one of the biggest sports consulting operations in the United States. Walter takes Brandon under his wing, and soon they are making tremendous amounts of money.
Lang's in-depth knowledge of the game, leagues, and players brings in big winnings and bigger clients. Abrams's cable television show, The Sports Advisors, skyrockets in popularity when he adds Lang's slick "John Anthony" persona to the desk, infuriating Jerry Sykes, who up to now has been Walter's in-house expert. Lang's total image is remade with a new car, new wardrobe, and a new look, with the assistance of Walter's wife, Toni, a hair stylist.
Things suddenly go south, however, when Lang begins playing his hunches instead of doing his homework. He loses his touch and is even physically assaulted by the thugs of a gambler who lost a great deal of money following Lang's advice. Abrams and Lang's once-solid relationship sours.
Lang's new high-rolling lifestyle depends entirely on his ability to predict the outcomes of the games. Millions are at stake by the time he places his last bet, and Abrams, a recovering gambling addict and alcoholic, grows increasingly unstable. He secretly begins gambling all of his own money on Lang's picks and becomes suspicious that Lang is having an affair with his wife.
The film concludes with Lang's predictions coming true for the last game, both of which he allegedly determines by flipping coins in a bathroom, as he leaves New York and takes a job as coach of a junior league football team.
Watch Two for the Money (2005) Movie Online With English Subtitles