Batman
Loading advertisement...
I Dislike This
Un-Dislike
Dislike
Batman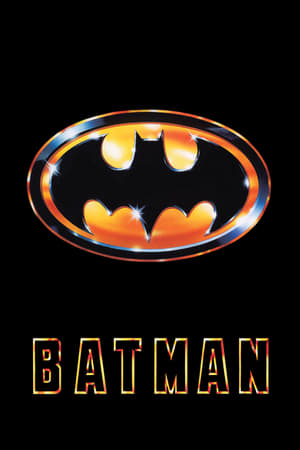 Batman
Overview
Having witnessed his parents' brutal murder as a child, millionaire philanthropist Bruce Wayne fights crime in Gotham City disguised as Batman, a costumed hero who strikes fear into the hearts of villains. But when a deformed madman who calls himself "The Joker" seizes control of Gotham's criminal underworld, Batman must face his most ruthless nemesis ever while protecting both his identity and his love interest, reporter Vicki Vale.
Cast

Michael Keaton

Jack Nicholson

Kim Basinger

Michael Gough
Billy Dee Williams

Robert Wuhl
Pat Hingle

Jack Palance

Jerry Hall

Tracey Walter

William Hootkins

Richard Strange

Carl Chase

Mac McDonald
Terence Plummer

Philip Tan

Christopher Fairbank
Kate Harper

Richard Durden
Del Baker

Steve Plytas

Amir M. Korangy
Garrick Hagon

David Baxt

Sam Douglas

Denis Lill

Paul Birchard
Crew
Tim Burton
Danny Elfman

Bob Kane

Michael Uslan

Benjamin Melniker
Peter MacDonald

Prince
Eddie Powell
Taglines: Justice is always Darkest before the Dawn.
The Dark Knight of Gotham City begins his war on crime with his first major enemy being Jack Napier, a criminal who becomes the clownishly homicidal Joker.
Gotham City. Crime boss Carl Grissom (Jack Palance) effectively runs the town but there's a new crime fighter in town – Batman (Michael Keaton). Grissom's right-hand man is Jack Napier (Jack Nicholson), a brutal man who is not entirely sane… After falling out between the two Grissom has Napier set up with the Police and Napier falls to his apparent death in a vat of chemicals. However, he soon reappears as The Joker and starts a reign of terror in Gotham City. Meanwhile, reporter Vicki Vale (Kim Basinger) is in the city to do an article on Batman. She soon starts a relationship with Batman's everyday persona, billionaire Bruce Wayne.
Creators: Bob Kane, Sam Hamm, Warren Skaaren
Director: Tim Burton
Star Cast: Michael Keaton, Jack Nicholson, Kim Basinger, Robert Wuhl, Pat Hingle, Billy Dee Williams, Michael Gough, Jack Palance, Jerry Hall, Tracey Walter, Lee Wallace, William Hootkins
Producer (s): Peter Guber, Jon Peters
Cinematographer: Roger Pratt
Production House: Warner Bros., The Guber-Peters Company, PolyGram Filmed Entertainment
Music: Danny Elfman
Original network / Official Sites: Warner Bros., Roadshow Films, Falcon, BBC One, HBO Max,
Release Year: 23 June 1989 (USA)
Runtime: 126 min
Genres: Action, Adventure
Country: USA, UK
Language: English, French, Spanish
Subtitles: English
Watch Batman Movie With English Subtitles FULLHD