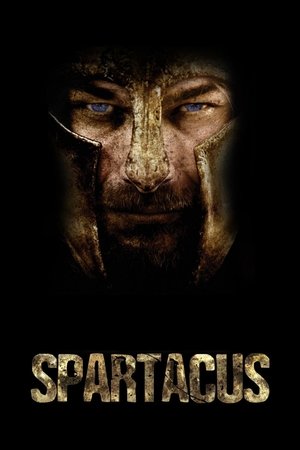 Spartacus
Overview
Torn from his homeland and the woman he loves, Spartacus is condemned to the brutal world of the arena where blood and death are primetime entertainment.
Cast
Liam McIntyre
Dustin Clare

Manu Bennett

Cynthia Addai-Robinson

Jaime Murray

Ellen Hollman

Luna Rioumina
Marisa Ramirez

Ditch Davey
Barry Duffield
Pana Hema-Taylor
Stephen Lovatt
Blessing Mokgohloa

Jenna Lind
Hanna Mangan Lawrence
Gwendoline Taylor

Brett Tucker
Simon Merrells

Todd Lasance
Christian Antidormi

Anna Hutchison

Roy Snow
Jared Turner

John Wraight

Daniel Feuerriegel

Heath Jones
Crew

Todd Helbing
Steven S. DeKnight

Sam Raimi
Robert Tapert

Miranda Kwok
Seasons

Specials
Blood and Sand
Vengeance
War of the Damned
The life of Spartacus, the gladiator who lead a rebellion against the Romans. From his time as an ally of the Romans, to his betrayal and becoming a gladiator, to the rebellion he leads and its ultimate outcome.
The inspiration behind this series is the Thracian Gladiator Spartacus, who led a slave uprising against the Roman Republic. The Thracians had been persuaded by Claudius Glaber to serve as auxiliaries in the Roman legions in a campaign against the Getae, who had often plundered Thracian lands. However after Glaber reneges on the deal and switches his attentions from the Getae to attack Mithridates in Asia Minor, the Thracians feel betrayed and mutiny. Captured by Glaber, Spartacus is condemned to death as a Gladiator, whilst his wife Sura is condemned to slavery. Spartacus, however, proves to be a formidable gladiator, and defeats the four gladiators tasked with executing him. He becomes a favorite of the crowd, leading Senator Albinius to commute his death sentence to a life of slavery. Spartacus is purchased by Batiatus for gladiator training, who promises to help him find Sura if he proves himself in training. As the series develops, the story follows the betrayals and machinations of Roman life and a tale of one man's heroic quest for vengeance.
Spartacus is an American television series produced in New Zealand that premiered on Starz.
After the completion of the first season titled Spartacus: Blood and Sand, production for another season was delayed because lead actor Andy Whitfield was diagnosed with early-stage non-Hodgkin lymphoma so Starz produced a six-episode prequel second season entitled Spartacus: Gods of the Arena. When the actor's cancer recurred and he later died on September 11, 2011, Starz had actor Liam McIntyre take on the role of Spartacus in the third season titled Spartacus: Vengeance. On June 4, 2012, Starz announced the fourth and final season, titled Spartacus: War of the Damned.
Watch Spartacus Complete Series