Star Wars
Loading advertisement...
Up next
Mirzapur Season 2 Complete
Cancel
I Dislike This
Un-Dislike
Dislike
Star Wars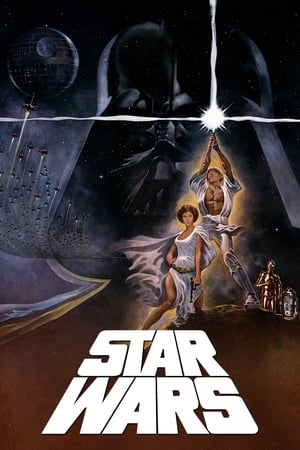 Star Wars
Overview
Princess Leia is captured and held hostage by the evil Imperial forces in their effort to take over the galactic Empire. Venturesome Luke Skywalker and dashing captain Han Solo team together with the loveable robot duo R2-D2 and C-3PO to rescue the beautiful princess and restore peace and justice in the Empire.
Cast

Mark Hamill

Harrison Ford
Carrie Fisher
Peter Cushing

Alec Guinness
Anthony Daniels

Kenny Baker

Peter Mayhew

David Prowse

James Earl Jones
Phil Brown
Shelagh Fraser

Jack Purvis

Alex McCrindle
Eddie Byrne

Drewe Henley

Denis Lawson
Garrick Hagon

Jack Klaff

William Hootkins
Angus MacInnes
Jeremy Sinden

Don Henderson
Richard LeParmentier
Leslie Schofield
Michael Leader

David Ankrum

Scott Beach
Lightning Bear
Jon Berg
Doug Beswick

Paul Blake

Ted Burnett
Gilda Cohen

Tim Condren

Alfie Curtis

Maria De Aragon

Peter Diamond
Warwick Diamond
Harry Fielder

Ted Gagliano

Salo Gardner

Steve Gawley

Barry Gnome
Rusty Goffe
Alan Harris
Frank Henson

Christine Hewett
Joe Johnston
Annette Jones

Colin Michael Kitchens
Melissa Kurtz

Tiffany Hillkurtz
Al Lampert
Laine Liska

Derek Lyons
Alf Mangan
Grant McCune
Lorne Peterson

Shane Rimmer

George Roubicek
Peter Sumner

Malcolm Tierney

Phil Tippett
Burnell Tucker

Morgan Upton

Fred Wood

Colin Higgins

Ron Tarr

Anthony Forrest
Frances Alfred Basil Tomlin
Crew

George Lucas

George Lucas

George Lucas

Gary Kurtz

Rick McCallum

John Williams
Ben Burtt

Robert Watts
Marcia Lucas

Roger Christian

Phil Tippett
Anthony Waye

Rick Baker

Gary Rizzo
Play Now Star Wars: Episode IV – A New Hope Movie
Taglines: May the Force be with you. One year old today.
Luke Skywalker joins forces with a Jedi Knight, a cocky pilot, a Wookiee and two droids to save the galaxy from the Empire's world-destroying battle station, while also attempting to rescue Princess Leia from the mysterious Darth Vader.
The Imperial Forces, under orders from cruel Darth Vader, hold Princess Leia hostage in their efforts to quell the rebellion against the Galactic Empire. Luke Skywalker and Han Solo, captain of the Millennium Falcon, work together with the companionable droid duo R2-D2 and C-3PO to rescue the beautiful princess, help the Rebel Alliance and restore freedom and justice to the Galaxy.
Creators: George Lucas
Director: George Lucas
Star Cast: Mark Hamill, Harrison Ford, Carrie Fisher, Peter Cushing, Alec Guinness
Producer (s): Gary Kurtz
Cinematographer: Gilbert Taylor
Music: John Williams
Production House: Lucasfilm, Twentieth Century Fox
Original network / Official Sites: 20th Century Fox
Release Year: 25 May 1977 (USA)
Runtime: 121 min
Genres: Action, Adventure, Fantasy, Sci-Fi
Country: USA,
Language: English,
Subtitles: English
The galaxy is in a period of civil war. Rebel spies have stolen plans to the Galactic Empire's Death Star, a moon-sized space station capable of destroying an entire planet. Princess Leia, secretly one of the Rebellion's leaders, has obtained its schematics, but her starship is intercepted by an Imperial Star Destroyer under the command of the ruthless Sith Lord Darth Vader, an agent to the Empire. Before she is captured, Leia hides the plans in the memory of astromech droid R2-D2, who, along with protocol droid C-3PO, flees in an escape pod to the desert planet Tatooine.
The droids are captured by Jawa traders, who sell them to moisture farmers Owen and Beru Lars and their nephew Luke Skywalker. While cleaning R2-D2, Luke accidentally triggers part of a holographic recording of Leia, in which she requests help from Obi-Wan Kenobi. The only Kenobi whom Luke knows is "Old Ben" Kenobi, an elderly hermit. He asks his uncle if he knows anything, but his uncle curtly drops the subject. The next morning, Luke finds R2-D2 missing, and while searching for him, encounters Old Ben. Ben, who reveals his true name to be Obi-Wan, tells Luke of his days as a Jedi Knight, former peacekeepers of the Galactic Republic who derived their power from an energy field called the Force until they were wiped out by the Galactic Empire. Contrary to what his uncle has told him, Luke learns that his father fought alongside Obi-Wan as a Jedi Knight until Vader, a former pupil of Obi-Wan's, turned to the dark side of the Force and murdered him. Obi-Wan presents Luke with his father's old weapon, a lightsaber.
R2-D2 plays Leia's message for Obi-Wan, in which she begs him to take the Death Star plans to her home planet of Alderaan and give them to her father for analysis. Obi-Wan invites Luke to accompany him to Alderaan and learn the ways of the Force, but Luke declines, saying his aunt and uncle need him. Returning home, however, he finds Imperial stormtroopers have killed his aunt and uncle and destroyed their farm in their search for the droids, leaving Luke no choice but to accept Obi-Wan's invitation. They travel to a cantina in Mos Eisley, where they hire smuggler Han Solo to transport them. Han is intercepted by Greedo, a bounty hunter working for local mobster Jabba the Hutt, to whom Han owes money; the confrontation ends with Han killing Greedo. Obi-Wan, Luke, R2-D2 and C-3PO flee Tatooine, with Han and his Wookiee co-pilot Chewbacca on their ship the Millennium Falcon.
Death Star commander Grand Moff Tarkin orders the destruction of Alderaan, Leia's home planet, using the Death Star's superlaser as a show of force.[7] The Falcon crew discovers the planet's remains and is captured by the Death Star's tractor beam, which Obi-Wan goes to disable. Luke discovers that Leia is imprisoned on the Death Star and scheduled to be executed, and rescues her with the help of Han and Chewbacca in a swashbuckling series of escapes. His task accomplished, Obi-Wan sees that the others need a distraction to board the Falcon, and sacrifices himself in a lightsaber duel with Darth Vader. They depart the hangar but are caught up by four Imperial TIE starfighters which they fight off. Using a tracking beacon placed on the Falcon, the Imperials follow the rebels to the hidden base on Yavin 4.
Leia's schematics show that the Death Star might be destroyed by firing torpedoes into a two-meter-wide thermal exhaust port that directly leads into its reactor, triggering a chain reaction. Han collects a reward for his role in Leia's rescue, intending to leave and repay Jabba. Luke joins the Rebel squadron in a desperate attack against the approaching Death Star. In the ensuing battle, the Rebels suffer heavy losses in several unsuccessful runs. Vader leads a squadron of TIE fighters and prepares to attack Luke's X-wing, but Han returns and attacks the Imperial fighters, sending Vader spiraling into space. Guided by Obi-Wan's spirit, Luke turns off his targeting computer and uses the Force to guide the torpedoes into the exhaust port. The Death Star explodes just before it can fire on the Rebel base, killing Tarkin and the Imperial troops onboard. In a triumphant ceremony at the base, Leia awards Luke and Han medals for their heroism.
Watch Star Wars: Episode IV – A New Hope (1977) Movie With English Subtitles