The Exorcist: Believer
Loading advertisement...
I Dislike This
Un-Dislike
Dislike
The Exorcist: Believer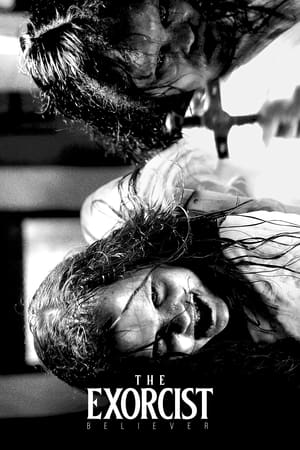 The Exorcist: Believer
Overview
When his daughter, Angela, and her friend Katherine, show signs of demonic possession, it unleashes a chain of events that forces single father Victor Fielding to confront the nadir of evil. Terrified and desperate, he seeks out Chris MacNeil, the only person alive who's witnessed anything like it before.
Cast
Leslie Odom Jr.
Ann Dowd
Ellen Burstyn

Jennifer Nettles
Norbert Leo Butz
Olivia Marcum

Lidya Jewett
Raphael Sbarge

E.J. Bonilla
Antoni Corone
Danny McCarthy
Norah Murphy
Okwui Okpokwasili
Malena Cunningham Anderson

Linda Boston
Lariah Alexandria
Linda Blair

Lize Johnston
Celeste Oliva
Crew

Terri Taylor

James G. Robinson

Danny McBride

Danny McBride

William Peter Blatty
David Gordon Green
David Gordon Green
David Gordon Green
David Gordon Green

Jason Blum

Mark Riccardi

Kevin Scott
Paul E. Short
Ryan Turek
Judd Wild
Jaye Tyroff

Janelle Beaudry

Valerie Daniella Hernández Oloffson

Joshwa Walton

Tim McAdams

Tim McAdams
In Haiti, photographer Victor Fielding and his pregnant wife Sorenne, blessed by a voodoo practitioner, are on their honeymoon until a massive earthquake ensues. Sorenne is gravely injured, and paramedics tell Victor he must choose to save either his wife or his unborn child, Angela.
Thirteen years later, Victor has lost his faith in God since Sorenne's death, while raising Angela on his own. One day after school, Angela ventures into the woods with her Baptist best friend Katherine to perform a ritual in an attempt to contact Angela's mother. Victor realizes his daughter is missing and contacts Katherine's parents, Miranda and Tony, as a three-day manhunt ensues.
The girls are later found in a barn; though traumatized, they seem relatively normal and are taken home, having only suffered burn marks to their feet. The next day, Angela suddenly attacks Victor and begins convulsing, while Katherine has an outburst during church. Victor admits Angela into hospital where their nurse neighbor Ann attends to her, and Miranda begins to theorize that the girls traveled to Hell and brought a demon back with them, hence the burns to their feet.
The girls' condition worsens as their burns become more severe. Ann, convinced that Angela is possessed after the latter reveals her knowledge of Ann's training as a nun and her abortion, gives Victor a book written by Chris MacNeil, who experienced a similar situation with her daughter Regan in 1973.[a] Chris has spent her life researching exorcisms in every culture while becoming world-renowned for her studies. However, Regan became distant from her mother due to the memoir's success and has not seen her since. Victor searches for Chris and takes her to the hospital to see Angela before going to Katherine's home. While Victor attends to Miranda and Tony, Chris goes upstairs and begins to perform her own exorcism on Katherine. Katherine stabs Chris multiple times in the eyes with a crucifix, blinding her, and she is rushed to the hospital.
Victor, Miranda, Tony, and Ann reach out to the church and Father Maddox for an exorcism. Chris advises Victor to use methods from all different cultures and religions, and the group seek the help of Dr. Beehibe, a rootwork healer; Don Revans, Katherine's family's Baptist pastor; and Stuart, a Pentecostal preacher. The group plan the exorcism, but the local diocese forbids Maddox from participating.
The girls are tied to chairs as the group proceed with the exorcism. The demon reveals that Victor did not choose to keep Angela alive thirteen years ago; he chose Sorenne but she died from her injuries. The demon tells him that he needs to choose which of the girls gets to live and which one will die, and if a choice is not made, he will kill them both. While Miranda and Victor both refuse to forsake each other's child, Maddox, who has a change of heart, rejoins the group. Maddox reads from the Roman Ritual, only for the demon, Lamashtu, to snap his neck and kill him. As Victor apologizes to Angela and uses Sorenne's scarf to attempt to strengthen her against the demon, Tony yells that he chooses Katherine, and Angela flatlines. Suddenly, the demon reveals the one that was chosen would be the one who died. Katherine screams for her parents as the demon drags her to Hell, while Angela starts to breathe. Police arrive as Miranda and Tony fail to resuscitate Katherine and Victor tearfully reunites with his daughter.
In the aftermath, Victor visits Sorenne's grave, Miranda and Tony mourn the loss of Katherine, and Angela returns to school. In the hospital, Chris is reunited with Regan, who forgives her mother, and they emotionally embrace.
Genre: Hollywood, Horror,
Released: 2023.
Director: David Gordon Green
Starring: Leslie Odom Jr., Lidya Jewett, Olivia O'Neill, Jennifer Nettles, Norbert Leo Butz, Ann Dowd, Ellen Burstyn
Watch The Exorcist: Believer Movie