Sound of Freedom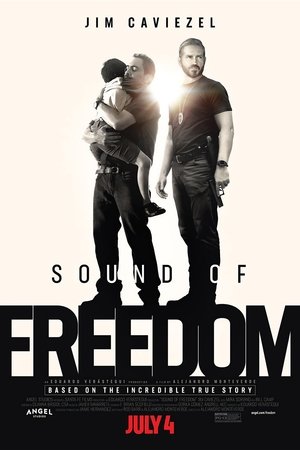 Sound of Freedom
Overview
The story of Tim Ballard, a former US government agent, who quits his job in order to devote his life to rescuing children from global sex traffickers.
Cast
Jim Caviezel
Mira Sorvino

Bill Camp

Kurt Fuller

Gerardo Taracena

José Zúñiga
Scott Haze

Gary Basaraba

Eduardo Verástegui

Manny Pérez
Gustavo Sánchez Parra

Javier Godino

James Quattrochi

Gustavo Angarita Jr.

Ariel Sierra
Kris Avedisian
Crew
Javier Navarrete

Eduardo Verástegui
Warren Ostergard

Gorka Gómez Andreu
Fight for the light. Silence the darkness.
In Tegucigalpa, Honduras, Roberto, a poor father of two, is approached by a former beauty queen, Gisselle. Gisselle offers to sign his young children, Miguel and Rocío, to child modeling contracts. He accepts and takes them to the photoshoot. However, when he returns to pick his children up, they are gone. It is revealed that the children were sold to be used as sex slaves.
In Calexico, California, Tim Ballard is a Special Agent for the Homeland Security Investigations (HSI), where he arrests people who possess and distribute child pornography. The painful work takes a great toll on his personal life, and this is only worsened when another agent, Chris, points out that they have arrested many child predators, but have failed to save even a single child from being exploited. Tim knows that this is because most of them are outside the U.S., but Chris's words stick with him. He speaks to a predator he arrested, Ernst Oshinsky, and pretends to be a pedophile himself. Once he gains Ohinsky's trust, he sets up a meeting with a trafficked child, and is able to arrest Earl Buchanan, the man who purchased the boy.
Tim rescues the boy, whose name is Miguel. Tim befriends the child and asks him for information that would help him find the other children. Tim learns that Miguel's sister Rocio is still missing, and the boy asks him to save her. Tim arranges for Miguel to return home to Roberto, but not before Miguel gives Tim his sister's Saint Timothy necklace. Tim starts looking for Rocío, and his search leads him to Cartagena, Colombia. He meets with former cartel accountant, Vampiro, who now works to save children from sex trafficking.
After reading about a child sex club in Thailand that was shut down, Tim decides that this is the perfect cover story to acquire a large number of Gisselle's children in a sting operation. Vampiro gets a Colombian police officer, Jorge, and a wealthy citizen named Paul to help with Tim's mission. Tim's HSI supervisor, Frost, is unable to provide funding for the operation, and asks him to return to the U.S. Tim resigns his position rather than abandon the search for Rocío.
However, Frost is able to persuade staff of the U.S. Embassy in Colombia to assist with Tim's rescue operation. Undercover, they convince Gisselle to sell them 54 children, successfully arrest all of the conspirators and free the children — but Rocío is not among them.
After interrogating one of Gisselle's associates, Jorge learns that Rocío was sold to the Revolutionary Armed Forces of Colombia, entrenched deep in the Amazon natural region. Jorge informs Tim that there is no way to retrieve the girl, because the region is largely unmapped jungle wilderness, and any rebel territory is a no-fly zone for the Colombian government. However, Vampiro suggests that doctors are allowed into the region for medical purposes, which gives Tim the idea to pose as doctors. Jorge reluctantly agrees to the risky operation. Tim and Vampiro attempt to enter enemy territory in disguise, but the rebels refuse to let both of them enter, leaving Tim to enter the area alone.
Tim gains access to the enemy camp where Rocío is being held and learns that she is being used as the personal sex slave for the rebel leader, El Alacrán ("the scorpion"), and along with others is required to mash coca leaves to produce cocaine which funds the rebel war against the Colombian government. Tim is forced to kill El Alacrán while freeing Rocio, but despite the rebels pursuing and firing on them, Tim brings Rocío to freedom. Before they part, he gives her back the necklace Miguel gave him earlier. Rocío is finally returned to her father and brother, and the family goes home to Honduras.
An epilogue reveals that Tim Ballard testified before the United States Congress and his testimony resulted in laws being passed that require the government to cooperate with foreign countries on sex trafficking investigations. The epilogue also states that there are more people enslaved today than in any other time in history, including when slavery was legal.
Genre: Hollywood, Action, Drama,
Released: 2023.
Director: Alejandro Monteverde.
Starring: Jim Caviezel, Mira Sorvino, Bill Camp
Watch Sound of Freedom Movie