Jumanji: Welcome to the Jungle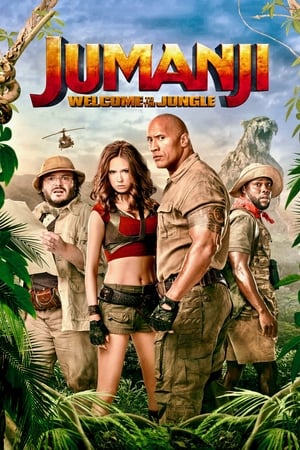 Jumanji: Welcome to the Jungle
Overview
The tables are turned as four teenagers are sucked into Jumanji's world - pitted against rhinos, black mambas and an endless variety of jungle traps and puzzles. To survive, they'll play as characters from the game.
Cast
Karen Gillan
Jack Black
Dwayne Johnson

Kevin Hart

Nick Jonas
Bobby Cannavale

Rhys Darby

Alex Wolff
Ser'Darius Blain

Madison Iseman

Morgan Turner
Mason Guccione
Colin Hanks

Marc Evan Jackson
Carlease Burke
Tim Matheson
Missi Pyle
Marin Hinkle
Natasha Charles Parker

William Tokarsky
Rohan Chand

Sylvia Jefferies

Danny Pardo

Virginia Newcomb

Maiya Boyd

Maddie Nichols
Daniel Salyers
Friday Chamberlain
Crew
Scott Rosenberg

Laura Jean Shannon
Dwayne Johnson

Gyula Pados

Jake Kasdan

Jake Kasdan

David B. Householter
Henry Jackman
Matt Tolmach
Dany Garcia
Erik Sommers
Taglines: Landing This Christmas.
Four teenagers are sucked into a magical video game, and the only way they can escape is to work together to finish the game.
The tables are turned as four teenagers are sucked into Jumanji's world – pitted against rhinos, black mambas and an endless variety of jungle traps and puzzles. To survive, they'll play as characters from the game.
In a brand-new Jumanji adventure, four high-school kids discover an old video-game console and are drawn into the game's jungle setting, literally becoming the adult avatars they chose. What they discover is that you don't just play Jumanji–you must survive it. To beat the game and return to the real world, they must go on the most dangerous adventure of their lives, discover what Alan Parrish left 20 years ago, and change the way they think about themselves –or they'll be stuck in the game forever, to be played by others without break.
Also Known As: Jumanji 2
Creators: Chris McKenna, Jeff Pinkner, Scott Rosenberg,
Director: Jake Kasdan
Star Cast: Alex Wolff, Bobby Cannavale, Dwayne Johnson, Jack Black, Karen Gillan, Kevin Hart, Madison Iseman, Nick Jonas, Rhys Darby,
Producer (s): David B. Householter, Matt Tolmach, Mike Weber,
Cinematographer: Gyula Pados
Production House: Columbia Pictures, Matt Tolmach Productions, Seven Bucks Productions, Radar Pictures
Music: Henry Jackman
Original network / Official Sites: Sony Pictures Releasing
Release Year: 20 December 2017 (USA)
Runtime: 119 min
Genres: Action, Adventure, Comedy, Fantasy,
Country: USA, India, Canada, UK, Australia, Germany
Language: English
Subtitles: English
In 1996 Brantford, New Hampshire, teenager Alex Vreeke receives a board game called Jumanji from his father who discovered it half buried in sand at the coast while jogging (Where it was last seen in the 1995 film).Uninterested, Alex sets it aside, only to find it transformed into a video game cartridge later that night. Opting to play the game, he is suddenly sucked inside upon choosing a character. His disappearance results in his father becoming despondent and his home becoming known as the 'freak house' and falling into disrepair.
Twenty-one years later in 2017, four Brantford High School students – rebellious Martha Kaply, shallow Bethany Walker, awkward Spencer Gilpin, and athlete Anthony "Fridge" Johnson – are sent to clean up the school's basement for detention. Fridge discovers Alex's discarded video game system, which he and Spencer decide to play and encourage the girls to join them. Upon starting the game, they are sucked into Jumanji, landing in a jungle as their chosen characters – Spencer as muscular explorer and archaeologist Dr. Xander "Smolder" Bravestone; Fridge as diminutive zoologist Franklin "Mouse" Finbar; Martha as commando and martial arts expert Ruby Roundhouse; and Bethany as male cartographer and paleontologist Professor Sheldon "Shelly" Oberon.
While coming to terms with their situation, the group find three marks on their arms denoting lives. Spencer theorizes that if they lose all three, they will die in real life. The group encounter the game's non-player character guide, Nigel Billingsley, who provides them with the game's narrative and their characters' backstories. The group learn that their goal is to end a curse on Jumanji, brought about by corrupt archaeologist Professor Russell Van Pelt after he stole a magic jewel called the "Jaguar's Eye" from its shrine and gained control of all the jungle's animals. Nigel hands Spencer the jewel, having stolen it from Van Pelt, and instructs the group to return it to a statue at the shrine and call out "Jumanji" to "lift the curse" and leave the game before driving off.
Coping with their avatars, their "weaknesses", Van Pelt's men, and Spencer and Fridge's animosity towards one another, the group encounter Alex operating the fifth avatar – pilot Jefferson "Seaplane" McDonough – who takes them to a jungle house built by Alan Parrish, the game's previous player. Upon realizing his identity, the group is collectively shocked upon learning how long he has been trapped in the game (Alex thought he'd only been there a few months). Now with a common goal, the group vows to help Alex return home with them. Dealing with further problems while heading for the shrine, the group coordinate to overcome them. They eventually reach the shrine, but Van Pelt corners them. Working together, Fridge, Bethany, and Alex distract him while Spencer and Martha outmaneuver him with the game's mechanics, returning the jewel to the statue. Upon calling out Jumanji, the group destroy Van Pelt and, sharing a handshake with Nigel, return to the real world.
Returning to the school basement, the foursome find Alex is not with them. While walking home, they unexpectedly find the Vreeke home restored and decorated for a Christmas family gathering. The group is greeted by Alex, now an adult, who explains he returned to 1996, which allowed him to lead a married life with children. His daughter is named after Bethany, who revived him with one of her lives in the game.
The four students become friends after their experiences in the game, with Bethany becoming a better person, Spencer and Fridge patching things up, and Spencer starting a relationship with Martha. When the group hear Jumanji's drumbeats coming from the game cartridge, Fridge crushes it to prevent anyone else from playing it.
Watch Jumanji: Welcome to the Jungle Movie With English Subtitles FULLHD